History of Ben Lomond Suites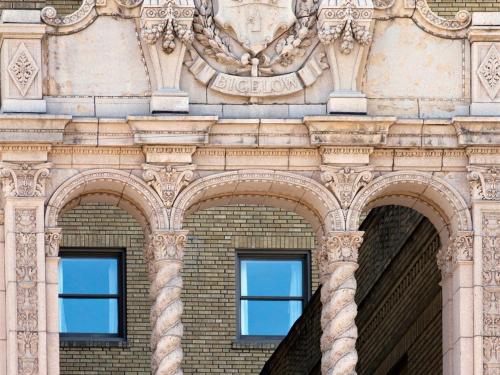 Hotel Details
Built in 1927 on the fourndation of the Reed Hotel
2 Restaurants (MacCool's Irish Pub and Restaurant 1107)
11 floors
12 Short Stay Suites with Full Kitchens
23 Corner Suites
6 Two-Bedroom Two-Bath Suites
58 Standard Suites
Covered Parking
6 Meeting Rooms (with rooms that can accommodate banquets of 300)
A Brief History of Ogden's Historic Hotel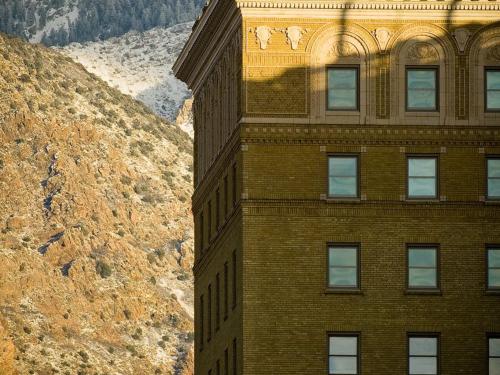 Located on Historic 25th Street of downtown Ogden, Utah Ben Lomond Suites Historic Hotel started life as the five-story Reed Hotel in 1891. In 1927 the hotel was completely reworked in an attempt to create a fire proof hotel. Eleven stories were added and the hotel was renamed the Bigelow Hotel. In 1933 Marriner S. Eccles aquired the hotel and renamed it the Ben Lomond Hotel. Then in the 1980s the 350 room hotel was completely renovated and converted to a 120 suite condo-hotel. The Ben Lomond is the last of the three "grand hotels" in Utah that is still being operated as a hotel. Evidence of this legacy can be seen in the crystal chandeliers, marble floors and decorative ceilings as you enter the lobby of this historic hotel, which is listed on both the Utah & National Historic Registers.
Historic Hotel's Architecture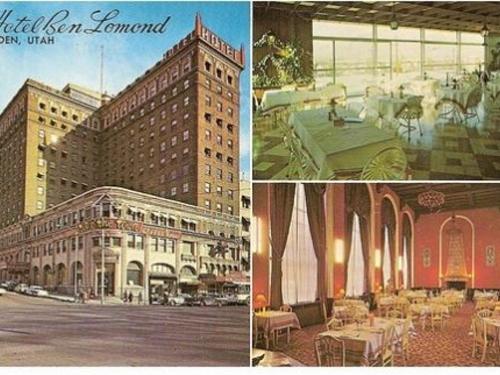 "The building was designed by the firm of Hodgson and McClenehan, which also designed Ogden High School, the Forest ServiceBuilding, the Egyptian Theatre and the Eccles Building. Like the Eccles Building, the Ben Lomond was designed in the Second Renaissance Revival Style-a very popular style in Utah between 1890 and 1930. The style was inspired by 15th and 16th century Italian architecture that was itself influenced by the Classical architecture of ancient Rome and Greece. The Ben Lomond is based on the tripartite vertical organization characteristic of Florentine palaces like the Palazzo Medici Riccardi: It uses a 'rusticated' base of glazed terracotta, an 8-story piano nobile, and an attic of arcaded windows with bas-relief terracotta tympana surmounted by a modillion-supported cornice. According to its National Register nomination, the lavish interior was designed as a sophisticated pastiche of styles that included an English Room based on Bromley Castle, an Arabian coffee shop, a Florentine-inspired ballroom, a businessmen's club room from 'old Spain', an 'Adamesque' Georgian Room, and the famous Shakespeare Room decorated with murals by the renowned Utah artist LeConte Stewart." (Weber County Heritage Foundation 2010 Calendar)
Famous People Who Have Recently Stayed at Ben Lomond Suites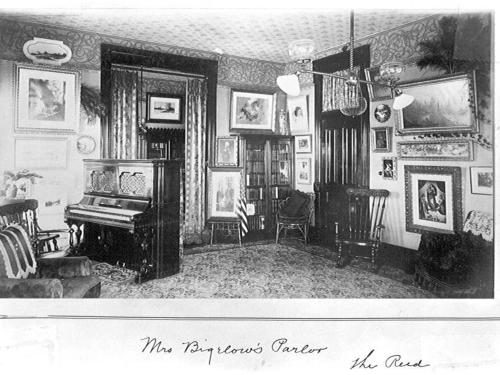 Donal Logue, from Grounded for Life, Sons of Anarchy, and Vikings, stayed at Ben Lomond Suites Historic Hotel in May of 2015.
Alicia Moore, the singer P!nk, and her daughter stayed at our hotel the end of June 2015.
Michael Ondaatje, author of The English Patient, stayed at the Ben Lomond Suites Historic Hotel in April of 2015 while attending the National Undergraduate Literature Conference at Weber State University as the keynote speaker
Author Terry Tempest Williams stayed at our hotel in April of 2015 while visiting Weber State University for the National Undergraduate Literature Conference
Additional Resources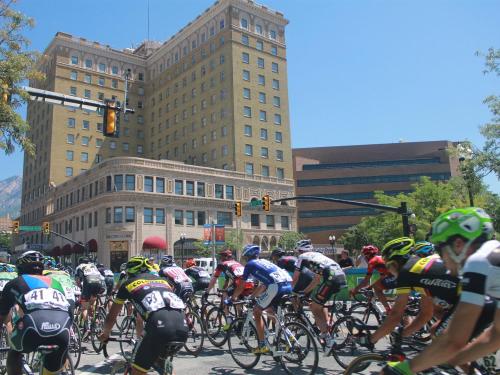 For a more in-depth history of the hotel view the Wikipedia article on the hotel or the Utah History to Go article. If you are interested in what we are doing to maintain and restore our historic hotel please visit the hotel's Facebook and Twitter accounts. If you would like to see more photos of Ben Lomond Suites Historic Hotel and Ogden, Utahvisit our Flickr account. If you would like to take video tours of Ben Lomond Suites and Ogden please visit our YouTube channel. If you have a story about the Ben Lomond you would like to share please e-mail it to This e-mail address is being protected from spambots. You need JavaScript enabled to view it
To view a video about Ogden click here.
"Ben Lomond Suites" Speaking on Business KSL
Standard Examiner articles about Ben Lomond Suites.
Memberships and Associations
Sunset Magazine Article about Ogden, UT February 2016
Utah Stories Article about Ben Lomond Suites from Jan 2015