THE BOARD ROOM GREAT FOR OGDEN MEETINGS
Meetings in Ogden, Utah

The hotel's Board Room with its board table, that easily seats eight in executive chairs, and its screen for presentations will make any important discussion go more smoothly. Conducting a business meeting or training session in this event space is a pleasure.

You will enjoy the convenience of being in the heart of downtown Ogden, Utah with the ability to break for lunch and walk to many of Ogden's best restaurants. Call (801) 627-1900 to book your event or meeting today. When you email please include your full name, phone number and a description of your event.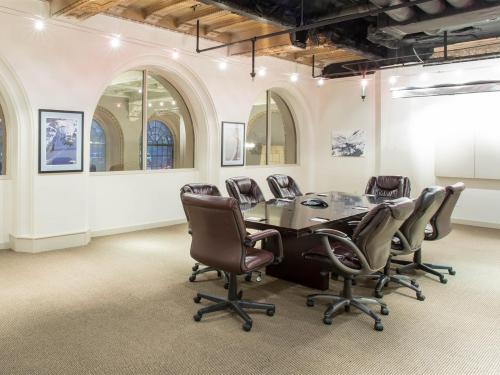 Dimensions - 17' x 32'
Square Feet - 544
Reception Occupancy - 40
Banquet Occupancy - 30
Classroom Occupancy - 24
Theater Occupancy - 35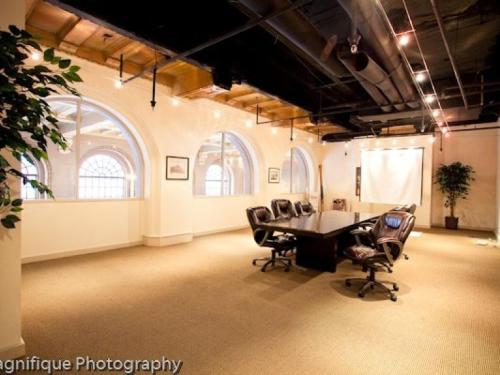 The Board Room has a very interesting history. Ben Lomond Suites was built in 1927 to be a fire proof hotel. Then in the 1985 renovation the ceiling of the Board Roomwas dropped about 2 feet to allow for modern air conditioning, wiring and the fire sprinkler system. A few years later a fire started in the Board Room. The fire did not escape the room or damage any other parts of the building, but it damaged the dropped ceiling in the room. While removing the dropped ceiling, to clean up after the fire, it was discovered that portions of the hotel's original ceiling had been hidden in the 1985. The ceiling is gold with hand painted pink and green embellishments. It was decided to remove the drop ceiling completely to expose the portions of the historic ceiling that remained in the room and paint the portions of the ceiling that were damaged in the fire and '85 renovation black. Guests that visit this room can view the ceiling and imagine the hours it took to hand-paint all the little details of the hotel's ornate ceilings.