Easter Seals and Charities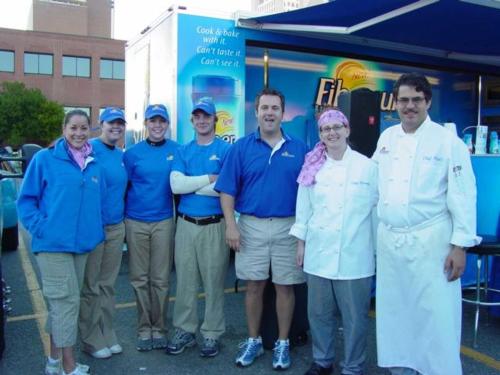 Shown is the team at Race for the Cure, Little Rock, Arkansas with Victoria Mora, Joel Harrell, Chef Stormy in PINK FOR BREAST CANCER bandana and Chef Marti baking for 60,000 attendees.

We have been having a social impact by investing time and money into our community since we opened. Our focus has not been on the papyrus printed amongst the humans called currency, in various colors, nor bags of 30 pieces of silver. We believe that companies should be formed to make money and then help others on earth.
Brian Dunn - a crippled Marine left to die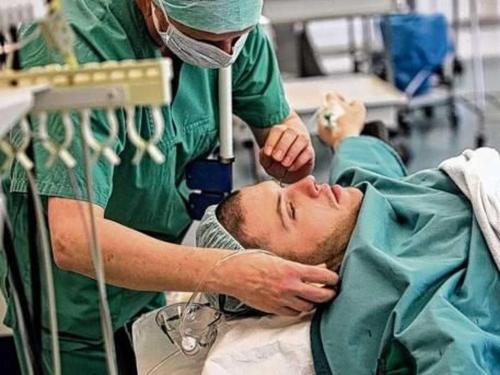 Brian Dunn, USMC combat wounded was helped to be able to walk again. See his cross-continent journey below...
Alone for Christmas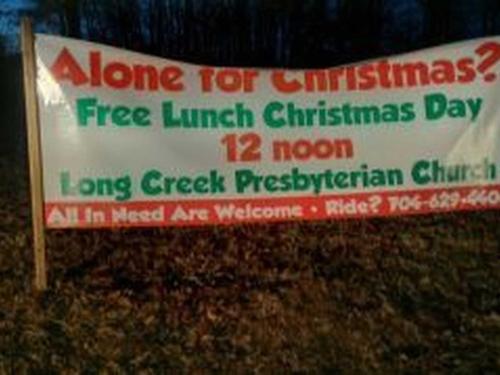 The Alone for Christmas dinner program was created as the Mongiello's enjoy cooking for others on holidays, in shelters from Texas to Japan.
Plastic Army men and women never seen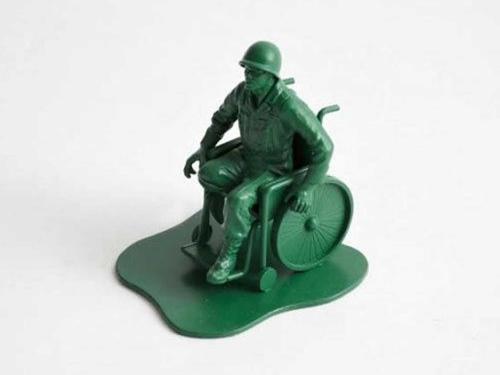 The plastic ARMY MEN & WOMEN that don't come in the bag as toys for our children to play with has long been written about by Chef Marti. He is a 30-year, disabled, injured, retired veteran. Stormy is a six-year disabled veteran.
Disfigured women veterans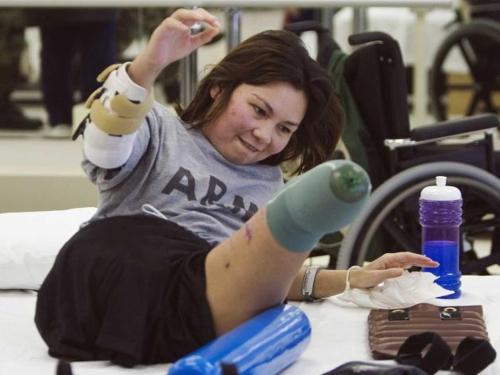 Army Major Tammy Duckworth lost both legs when the helicopter she was in was struck by a rocket-propelled grenade during a mission near Baghdad on Nov. 12, 2004. (AP Photo/The Arizona Republic, Michael Chow)
The Polar Bear Plunge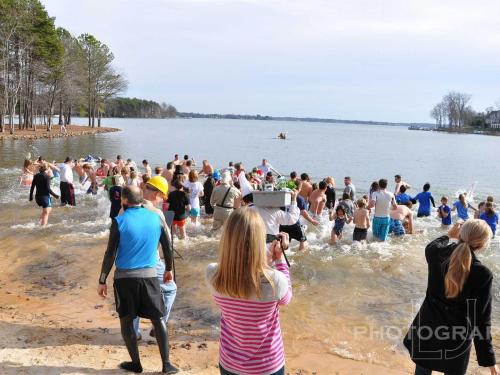 Chef Marti takes the Polar Plunge at Trump National Golf Club and cooks in the lake serving Eric Trump and others to raise money for Stop Child Abuse NOW.

Chefs Marti and Stormy Mongiello have taken a powerful and active role in high visibility charities across the United States of America, Europe and Asia spanning decades of hard work. Most recently, their companies have provided over 500 donations of room nights, cooking classes and financial gifts to veterans and charities of all kinds. Their primary focus has been on veterans since they are both disabled themselves and registered as disabled veterans with the Department of Veterans Affairs. The names of the charities are too long to list (many publicly thank The Inn of the Patriots on Facebook) and would bore most humans - thus allowing God to keep the master tally (phew! - thank you God).
Raising money for Assisted Living and Life Enrichment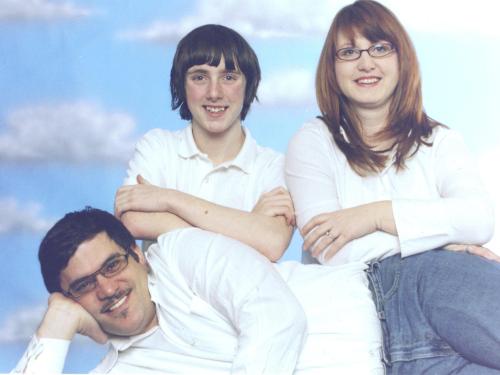 1. In 2008, having just opened up in the region, the chefs raised money and set the first-ever record at the
Neal Center
Rockathon by cooking in rocking chairs. Senator Debbie Clary donated 150.00 to the Neal Center on behalf of the Chefs. The Mongiello's are pictured with their son, JT.
Working with Food Banks worldwide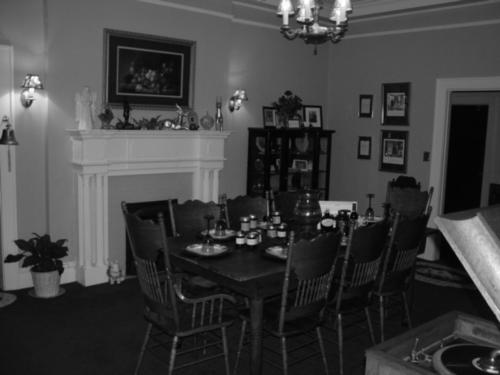 2. In 2009, Senator Debbie Clary attended a special dinner hosted by Chefs Marti and Stormy with Kay Carter, Executive Director of
Second Harvest Food Bank of Metrolina
. Second Harvest is responsible for providing food to almost 650 non-profit agencies serving the hungry in a 19 county region of North and South Carolina. These agencies include emergency pantries, soup kitchens, homeless shelters, low-income daycares, group homes and senior programs. In the past seven years, the total pounds of food distributed has increased from 7 million pounds annually to 37 million pounds annually. The pounds of food provided per person in poverty during this period have increased by 250%. One of the primary goals of Second Harvest is to eliminate childhood hunger in the Metrolina Region. In the past seven years, hunger programs devoted to serving children have increased by 731%. Second Harvest is the third largest nonprofit agency in the area of health and human services in the Charlotte region with annual revenues including food donations of over 52 million dollars. Under this dinner meeting, a massive allotment was made by the state to hunger programs.
Many food banks have been worked with including Aloha Harvest, The Catholic Church Missions in Japan, in Houston, Texas for, over 10,000 hungry on Thanksgiving and help days, cooking in Connecticut for the Holidays at the shelter in Groton, and others.
Giving up Christmas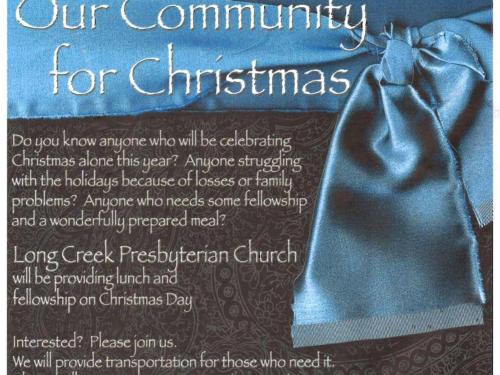 3. In 2010 Chefs Marti, Stormy and James Thomas (JT) created the "Christmas for the Poor and Lonely" event giving up Christmas Day to cook and prepare dinner with friends and colleagues at Long Creek Church in Kings Mountain, NC. The event became an annual event for many years and included gift giving, clothing donations and more. Pastor Dee Liss was greatly responsible for helping this event come to fruition with terrific help from Howard Liss.
Marching with veterans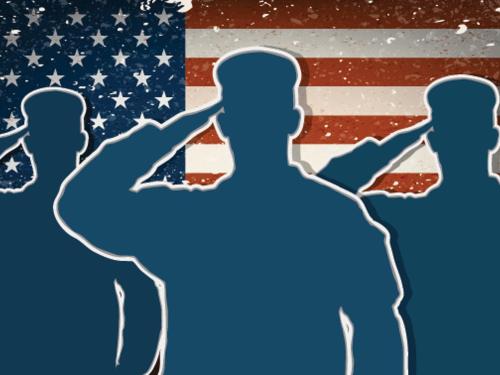 4. In 2011, the Chef Veterans hosted Troy Yocum of DrumHike who was
marching across the USA
towards 8,000 miles for veterans issues. Sgt. Ralph Castle of the US Army helped Chefs Marti and Stormy to attain intense publicity for Troy and his causes via local television cable interviews and CNN affiliate showcases. Additionally, Senior Chief Mongiello (Chef Marti) and Sgt. Castle joined Troy and Sgt. Mike Mills in marching to ULTRA ARMOR (a local defense contractor) on the kick-off of an 11-mile journey and goodbye that was featured on
CBS Channel 3, WBTV
. This became the precursor to the all-new
Active Heroes Organization
which recently won over $250,000.00 from Home Depot to build and refurbish homes for veterans. Mayor JD Ledford of Grover, NC also donated $500.00 while visiting the Wish Upon a Hero Humvee that followed Troy on his marches. The Shelby Star and Kings Mountain Herald ran simultaneous stories on the events held - for three days.
A local disappearance and tragedy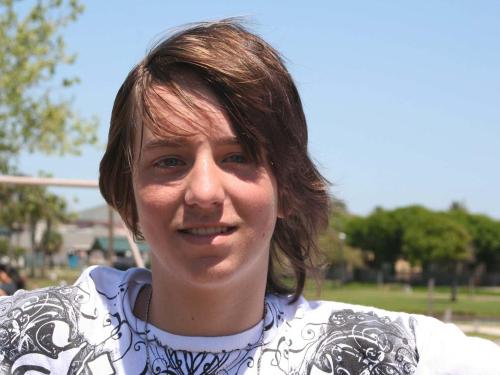 5. This same year a young man,
Nathan Beck, disappeared in the Broad River Greenway
and Sgt. Ralph Castle came to Chefs Marti and Stormy asking for them to get involved. Senior Chief Mongiello (Chef Marti) opened up the Eye in the Sky Center to help over 1600 volunteers working on the site for over a week to find the body. The Mongiello's donated material, work employee hours, food and money to the massive effort involving planes, helicopters, and command centers. The family was forever grateful, and the funeral was highly attended. Initially, this led to the creation of The Christian Army which later developed into
God's Helping Hand
. God's Helping Hand is growing and organized.
Injured Marine helped to walk again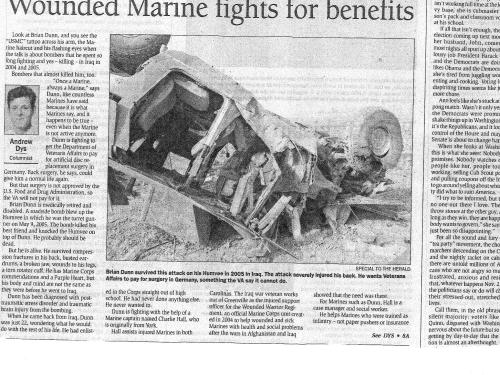 6. In 2012, a long-term US Marine who had been a project of God's Helping Hand and the Mongiello family called for help. He was Brian Dunn.
Operation Zebra Six Two
was stood up for his long journey to be operated on in Germany due to being blown up inside of his Humvee - and becoming the sole survivor. Brian had been able to work with many, many operations and returning to the US. But then could no longer stand up and hold down his job at the US Postal Service. Chef Marti attended a lawn-mower race
to raise money
for Brian, hosted a luncheon at The Inn of the Patriots with Captain Charlie Dunn and also had Brian and Sgt. Ralph Castle, US Army - on a local radio show hosted by Bill Jordan. Bill is a former Vietnam US Army Officer. Brian opened up a fund. Marti wrote to Catherine Lash and requested she investigate and write a story
- which she did
. She wrote two.
Other fundraisers
were completed for Brian, his wife, and many children. The article was read and seen by an influential Doctor in California who suddenly offered to join the Marine Corps League in funding Brian's trip to Europe. He was the inventor of the back disks and donated them! After years of battling the system, having the power cut off to his home, threatened by mortgage companies and more - Brian was able to walk and work again in a pain-free life.
The coverage in German newspapers and America was extensive.
Over the course of several months, many influential veterans became exasperated with Brian's situation and how he was being treated. At times, even the most potent and seasoned legislators and officials hit brick walls that no known entity or person could scale or topple. Several versions of influential C4 stylized letters went out in America to shape charge punch through the walls and dozens of teams sent to attack, on behalf of Brian, failed, time and again. Brian's surgery was not legally allowed in America and not authorized by the FDA so only by leaving his country could he ever return to it again. The German hospital was one of a few that performed the surgery to high acclaim and success for many injured and crippled.
In 2018, Brian began collaborating and interviewing Marti, with a writer, pursuing the publishing of his new book about the entire experience.
The Mongiello Holdings, LLC companies, endorsed and joined
www.buyveteran.com and NAVOBA
.
In May the primary landlord of the property (and owner) suddenly went bankrupt, and the Mongiello's were faced with attending the foreclosure auction of the mansion they had been leasing for so many years. Being in an awkward position with bookings into 2014 - they bought the property on the sidewalk of the Cleveland County Courthouse with a $7,500.00 down check.
Doctor Dean and Anne Ornish
stepped in as good friends and paid the rest of the fee off immediately. The Mongiello's then secured an SBA loan via the pro-veteran, Home Loan Investment Bank with Ocean Capital and Daniel Murphy. The Mongiello's repaid the Ornish family with interest and heralded them for saving their home, business, and operation. Dean said it best when he said, "pay it forward!" In 2019 we paid off the SBA loan 20-years early
Working to help Easter Seals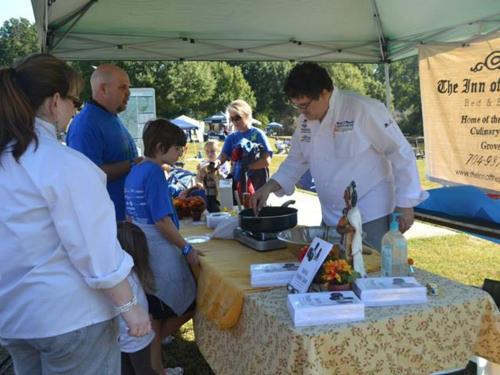 In 2013 the Chefs were approached by Easter Seals, their United Cerebral Palsy (Easter Seals/UCP) efforts, and numerous other programs that Easter Seals helps. The Chefs welcomed the opportunity to march in Charlotte and conduct a book-signing to provide a portion of the profits for Easter Seals/UCP. The
Military and Veterans
Initiative
of Easter Seals/UCP is a helpful set of tools and programs for veterans. Linking to that portal will open up a world of opportunities for those in need of many things. Easter Seals/UCP was also covered by Marti with Miss America 2013 in his column at the Examiner.
Over 68k was raised.
Stop Child Abuse Now (SCAN)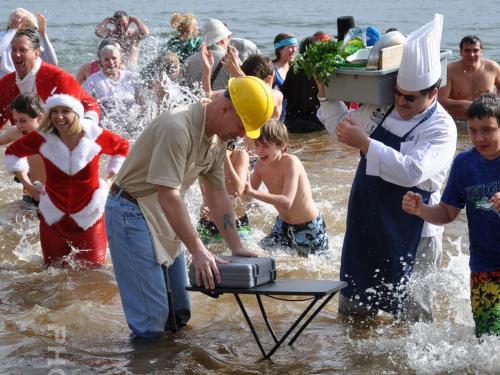 8. On New Years Day of 2014, Chefs Marti and Stormy joined with Baby Rania to cook live in Lake Norman, cooking out in the water, during the 2014 Annual Polar Bear Plunge.
Trump National Golf Club
helped host the event. After serving up a fresh pasta salad, they threw themselves into the cold lake with several hundred others to help raise money for Stop Child Abuse Now (SCAN). Cooking in Donald Trump's lake was terrific to do with Eric Trump and raising money for SCAN. 29 children were killed in our state the year previous alone, via abuse and hitting with fists and hands. The Presidential Culinary Museum,
White House Chefs Kitchen Designs
, Chef Marti and Stormy Mongiello, and The Inn of the Patriots Bed and Breakfast Hotel helped sponsor the Sixth Annual Lake Norman Polar Bear Plunge for Charity with 100% of all Donations to benefit SCAN (Stop Child Abuse Now) of Iredell County. In the sixth year now
over $60,000.00 total has been raised
and the Mongiello's also donated free meals, cooking classes and an overnight stay for the grand prize.
Cancer Services of Gaston County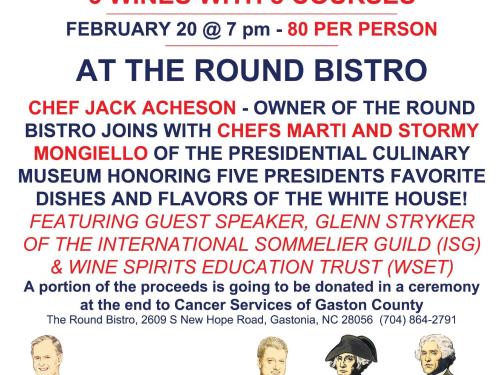 9. In 2014, The Inn of the Patriots was featured as a disabled, veteran-owned business on the front cover of Vetrepreneur Magazine (2/14) and in FOOD TV Network Magazine (1 and 2/14). Marti provided a program showcase and was invited as a guest speaker to The Sons of the American Revolution in Spartanburg, SC in February at Wades Restaurant and was honored with a small cannon and gold certificate. On February 21, Chefs Marti and Stormy teamed up with The Round Bistro and Chef Jack Acheson to conduct
a benefit dinner featuring the Presidents of the United States
favorites to benefit Cancer Services of Gaston County, NC.
ASMBA Star Foundation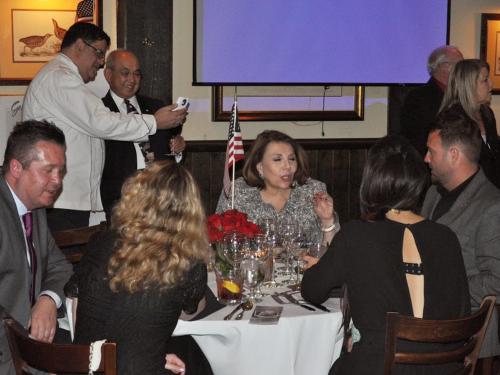 10. In 2015 we helped
as an unpaid guest speaker
at the ASMBA Star Foundation Dinner in Nashville, TN, with Travis McVey of Heroes Vodka. ASMBA has
raised over $1,000,000.00
for service dogs, wheelchairs, motorized wheelchairs, and home improvements for veterans while having near 100% of all funds raised going to just that. Little to no administrative fees or salaries exist.
We also visited Camp Luck for children with heart replacements and heart challenges, financed and supported
the entire Black Hero Celebration and Dedication Day of Ishmael Titus on the Charlotte Walk of Fame
. We opened up and funded the Catawba Nation Hero Painting of Captain Redhead who helped create America (released in February 2016).
In August, we supported the Kings Mountain Farmers Market with a Kid's Cooking Class donated to raise awareness of farming. We had previously donated a class to the market earlier in the year, and it went well.
The murder of a local, little girl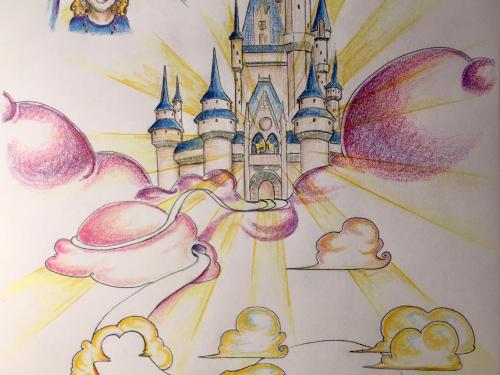 In 2016
, The Inn of the Patriots interjected itself with the Mongiello's nationwide in objection to the killing of a young girl,
Jordyn Ann Dumont
, in the nearby city of Bessemer City/Gastonia, NC
(see also the Washington Post article).
When news crews and stations asked why the company was involved from a corporate level, former White House Aide Martin CJ Mongiello stated,
"because we don't hide our company in a society as large corporations do. We don't need to convene the Board of Trustees to review supporting this family, and we don't have to call a meeting to discuss having the corporation involved across the media with a murder. All other companies do - because they live to make a profit only and fear to mix business with crimes. The living horror this father and family are going through needed emergency and immediate financial assistance with loving support - and we are also against what happened and seek justice. The large companies typically fear any involvement in towns, in cities and society of any controversial nature - but especially murder. In this case, the brutal killing of an infant was especially sickening to us, and we wanted the authorities to examine procedures with a fresh set of eyes."
In 2018,
the entire family returned from Chicago and placed a bright lamp into the flowers of the property. They spread Jordyn's ashes onto the Carolina coastal waters. They attended the murder trial of the child each day and the full judgment of life in prison for the man who killed the child. The family stayed at
The Inn of the Patriots
in Grover, NC, again with financial assistance provided by the Mongiello's and filmed the full statement of anger, hurt, and sorrow, to WCCB and Morgan Fogarty.
If you would like to see Josh's full interview and the full-sized drawing, click here.
The drawing shown here depicts the ideas of Chef Marti shared with the family.
It has been comforting to know that in all things of the universe, God makes everything right. His son, the Christ, took Jordyn to Disneyworld and arranged for her to enjoy the exclusive, $4800.00 per night Princess Suite in the middle castle.
Jordyn has grown and aged while staying for close to two years. What has been particularly lovely is the golden carriage picks her up in the mornings she would like to go around the park. For the first few weeks, that carriage was at the front gates every day! In the time after that, Jordyn's interest waned, and time staying in has grown. Sleeping is something no longer used or needed in heaven, as is controlling
the intake
of sweets, McDonald's every day, weight gain, illness, or disease. Mostly, it's a
full-on
, whole hog, strap on a feed bag, all-day long with sodas and pies festival. I ask you what kid doesn't enjoy dessert?! And the bakers have been overjoyed to send tray after tray up on silver wheeled carts.
Many may be shocked to see how she has aged with her new step-dad by her side, Jesus Christ, the Lord, our God. Christ was the first to greet her when she walked in. He gave her instantaneous wisdom and knowledge, universal comprehension of what had happened and how her second life would begin, bewilderment was removed with any loneliness, or, "where am I and who are you with the hairy face?" (first documented words out of her mouth). Christ smiled and touched her mind without his hand and spoke in the quiet of power and gentleness. "I am the power, and in charge of everything, I am the alpha and the omega who rides on a white steed with my blood-drenched cape, and I allow and see all until I say what will and what will not, child." Jordyn was imparted with all-seeing and childish meetings of family members who were surprised themselves to be meeting her so soon.
"We had expected to be meeting John next, admittedly, in some time to come but not your child," stated Christ. "Here are your aunts and uncles, cousins, and family, and this process of meeting and spending time with each can take up to ten of the earth years to complete. Typically, a person will then move on to finding and visiting for months at a time with famed humans in the history of your particular planet, that is called the earth."
The diamonds on the carriage glisten in the early morning sun still to pick up Jordyn. Generally reserved for the evening Disney parade, Jordyn has even just ridden around in it during the day, waving to other children. And here is a beautiful fact of kindness - she has surprised families and children by often calling for the carriage to stop! Isn't it heartwarming to know the truth that an invitation to come on and get in has occurred, and it happened numerous times. How kind, how loving. Thank you, sweetheart, for sharing with others.
(This drawing was commissioned for free by Martin CJ Mongiello to express his ideas and thoughts about Jordyn, and he is not a medium or claims to be any kind of visionist. Krister Gustafsson of Australia completed the drawing for free in a love offering listening to the sights and sounds of Marti, and both men love children. They are working on an advanced daycare center for children that embraces love, kindness, imagination, and the gift of creation and play. It can be seen at www.magicgarden.life as part of the efforts in advertising and marketing clients they help every day via Mongiello Associates Strategic Marketing Firm at www.mongielloassociates.com ). This drawing is a gift to the family and humankind.
In 2018, William McMullen, a local of Bessemer City, NC (who had cheated with his new girlfriend (Jaylene) on the biological father, Josh Kinnett), was convicted of murder for beating the baby to death with life imprisonment and no parole.
In 2020
,
a 12 million dollar lawsuit was ruled on against
Jaylene Dumont and her boyfriend, in the father's favor. In his judgment, Judge Bell said Jaylene Dumont "was negligent in her role as the biological mother, parent, and guardian in that she failed to adequately protect (Jordyn) from abuse, neglect, torture, and assault."
Raising $567,000.00 in one night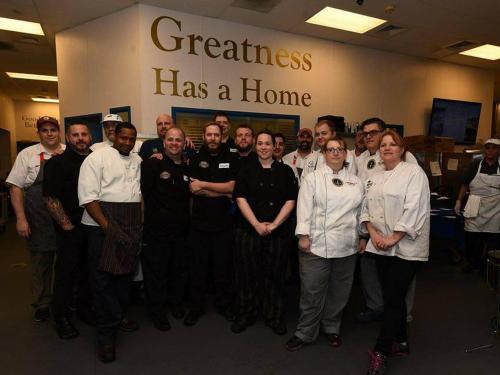 12.
In 2017
, the Chefs
helped raise $567,000.00
in one night serving dinner at Quail Hollow Country Club (site of the PGA Championship) for Cystic Fibrosis Foundation at the Dining with the Master Chefs event. This dinner served 328 people, and some of our Chefs worked for 16 hours straight. Featured top right is Chefs Alicia Guinyard (extreme right), Marti Mongiello (behind her), and Stormy Mongiello (next to Alicia).
In 2018
, we went to the affluent lady's home in Charlotte who had also won us as a prize to have the Chefs cook in your home!
She bid $4,000.00
for us to serve eight friends on Lenox china - a terrific, yet fun, dinner. In the end,
Marti made a Kennedy presentation
with the dessert of Strawberries Romanoff - which had been served for the White House luncheon hosting Prince Ranier and Princess Grace in 1961.
In 2017 and, we also hosted our 9th and 10th
Easter Egg Rolls
(always free for kids) with greatly expanded games and kids events. In the summer of 2017, we teamed up with Share The Love Grover Rocks Club and hosted a free summer camp for kids for one month to benefit rural children.
In 2019
, we built a 24-hour Food Bank in front of our country inn and expanded the library offerings with our
Little Free Library
system as an authorized library. Charter #27425 ,
Stormy and Marti Mongiello,
301 Cleveland Avenue,
Grover NC 28073,
Lat: 35.17221 -
Long: -81.44973. We are committed to stocking the Food Bank more like a blessings box with clothing, books, food, drinks, and more. The community has also pitched in by stopping by and dropping off food - which is the most magical thing to see ever! We continued donations to Clean the Ocean of Plastics, the Obama Foundation initiatives in Africa and major Africa Conference, the George and Barbara Bush Foundation, The US Navy Memorial, Heifer International, the TimesUp! fund, American Legion, and numerous churches.
Rania Mongiello (our daughter) participated in Wreaths Across America as one of the first-ever Cub Scouts in history (for a girl) at the local Kings Mountain Cemetary - placing wreaths on graves (2018 & 2019). She also participated in a food drive at Food Lion and grave cleanups at cemeteries.
Our donations to several Presidential libraries and foundations continued along with the Charlotte Museum of History, The Brigade of 87, Friends of Scouting, the city of Unicoi, TN (via two live shows of cooking and all donations of food), speeches to the Sycamore Shoals State Park of TN, the DAR of York, SC, The US Naval Institute at the Commerce Club in Greenville, SC, and the Broad River Genealogical Association were conducted.
In 2020, we expanded our outreach to include two Little Free Libraries and the 24-hour Food Bank. We kept stocking every day during the Corona-virus pandemic and dozens of citizens helped fill up the food bank even with baby food, toilet paper, and more. It was at this point that we knew the project had become a community-based success for the benefit of everyone.
We also returned to helping Brian Dunn by writing a letter of advocacy for him for a free home to live in and to receive a new, free car. Several associations contacted him to continue to help his family through his Traumatic Brain Injury (TBI).
Why we get involved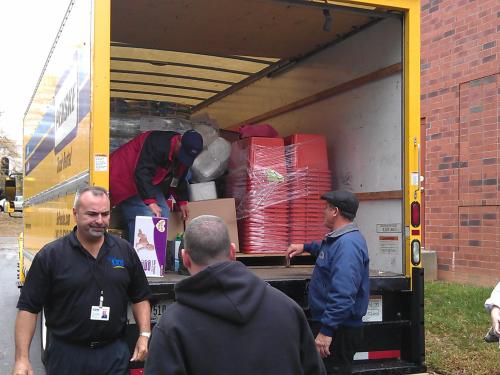 13.
Through the years, the Mongiello's and their nine companies have amassed hundreds of letters of donation and help. They showcase and share those, at their inn, to influence others. The reasons for opening and running a business are to change the world and help the human race on earth. Not to get rich. Because some confuse the bible and boasting on earth - with sitting around and doing nothing, and because many enjoy the filth of untold wealth instead of helping others - the Mongiello's are very public about sharing how to help. In this photo, we are helping ship items to Hurricane Sandy with trucks of bread and water, plus other items.
Additional book, film, radio, charity, and television work worldwide -
can be found here.