About our Chefs, Innkeepers, and team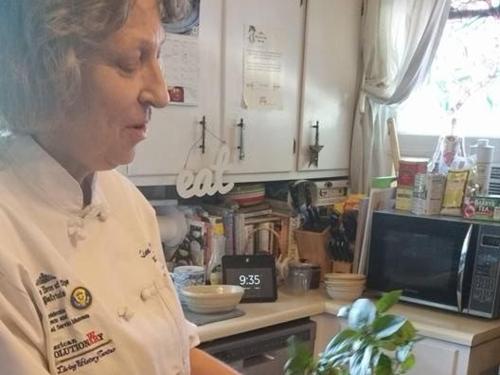 Inn Manager and Chef de Cuisine Kim Hambright (left) has worked with us for almost ten years!
She is studying to become a nurse with her four-year degree and is known across the world by our guests as Ms. Kindness. And her biggest fan is Princess Rania Isabella, who usually steals her yogurt!
Kim is a 2016 recipient of the Presidential Service Center Distinguished Service Medal. Kim continues to study to become a nurse at Cleveland County Community College and is an avid helper of her church and annual Easter Egg Roll on Easter Monday.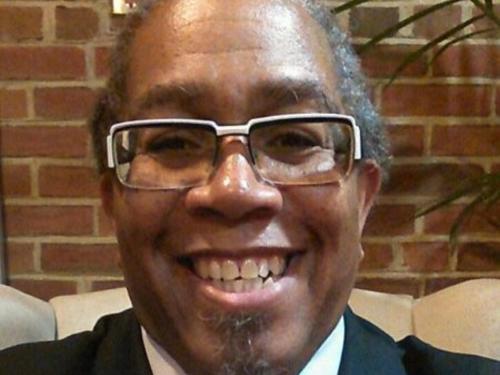 Orlando Herrera is a Marine Corps Veteran and guest speaker at the inn and museums. As the VP of Government Services and Veterans Affairs, he resides in Washington, DC and coordinates other meetings and exhibits showcased at the inn including research, think tank reports, and new shows.
He's an experienced Chief Executive Officer of a production company, with a demonstrated 38-year history of working in the mental health care industry. He's very skilled in nonprofit organizations, music publishing, music management, and program evaluation. Orlando is an energetic entrepreneur and professional representing our expansion. As a Doctoral Student of Philosophy in Psychology, he has focused in General Psychology from Northcentral University.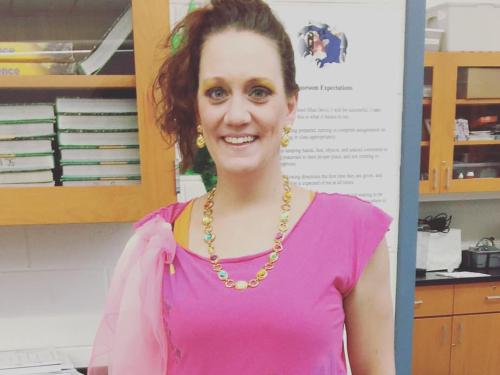 Mindy Reynolds is a graduate of UNC Wilmington and a lover of all things football. Between her and Chef Stormy, we are uncertain of who has memorized more stats?
Mindy has three children and loves teaching, which she has done for over a decade in the North Carolina elementary system. Today she is happy to help teach our over 5,000 graduates in the Cooking School, host kids classes, and more. As an instructor and chef, she shines for her excellence in diligence, concern for platinum standards, and kindness to guests. Mindy is also a trained butler and the Executive Assistant to Mr. Martin of the Mongiello family.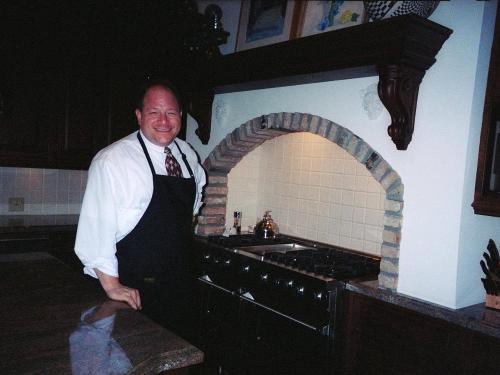 Allan Miller is a classically trained Butler, Estate Manager and the Managing Director of the estate. Allan has cared for CEO's and the top 2% of families in America for 30+ years. He is a long-term resident of Palm Beach, Florida where he has worked for the same family forever!
As the family office manager of Casa di Molinero, Allan is proud of having taught students on Air Force One, the Camp David Resort and Conference Center, and the White House. HIs teachings as the Director of Education at the International Academy of Household, Hotel, and Resort Management (IAHHRM) have been felt worldwide by students in many countries. Allan has also won numerous Maine State Fair Blue Ribbon awards in first place for his baking, year-after-year!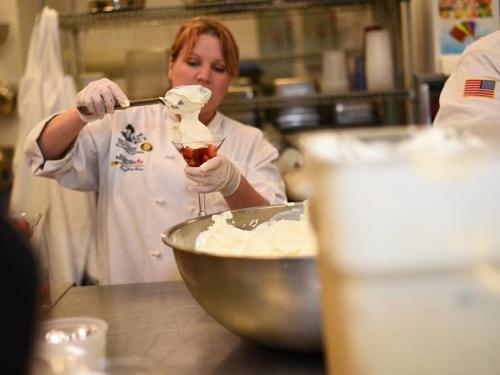 Sous Chef and Assistant Innkeeper Alicia Guinyard is proudest of recently cooking a dinner for Cystic Fibrosis in Charlotte. At Quail Hollow Country Club she helped us raise $567,000.00 in one night of working 16 straight hours! Alicia lives in beautiful Helena, Montana and enjoys traveling.
Chef Alicia is currently a Consulting Sous Chef and will be taking her exams to advance to Chef de Cuisine. She has six children and is also powering her way towards her degree. She remains highly recommended by The US Presidential Service Center.
Antwain Thomas is the Chief Development Officer for the inn's expansion, frequent guest speaker at the inn, and advisor in Washington, DC, where he resides.
His background involves international project management and planning, wealth & asset management, international trade, institutional finance, philanthropy, military and government communication and logistics, telecommunication/SATCOM security, Internet/Data Policy, global logistics, and Homeland Security.
Antwain is a military veteran and lived in Japan for many years with the Seventh Fleet.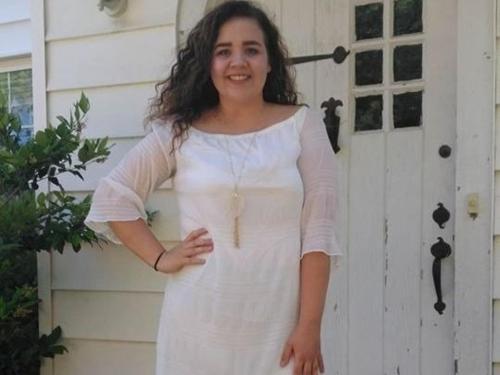 Host and Actor, Alexis Skidmore, has been an honor student for most all of her years in school and college. She finished her first college degree the same day she graduated from Kings Mountain High School, NC.
As an Actor, she has helped The American Revolutionary War Living History Center (ARWLHC) to herald and celebrate a number of historic occasions as far away as Charlotte, NC on the Liberty Walk. These have included the black hero of the battle of King's Mountain, Ishmael Titus. Today she is busy studying toward her Doctoral degree and is currently enrolled at UNC.
Alexis is studying Latin and psychology. In 2018, she was awarded the gold medal in the name of Susan Twitty, revolutionary war heroine of Grover and Graham's Fort.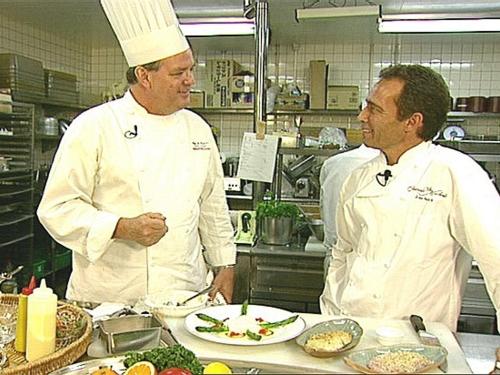 Chef Rick Scott
(left) works with
Chef John Sarich
of Chateau St. Michelle Winery on another television episode and filming. Rick has been globe-trotting ever since he began serving in his famed Ohio restaurant and took a job serving as the chef for America at the Embassy in Switzerland!
His long-heralded work as the Executive Chef of the
Tokyo American Club
(TAC) in serving
Akebono
the Champion Sumo Wrestler,
Prince Masahito Hitachi
, and being knighted into the
Chaine de Rotisseurs
Tokyo Chapter has only been eclipsed by his estate work for
Oprah
! Ricks previous work as Executive Chef and recipes published extended into Kikkoman, with
Robert Mondavi
wine dinners, advising
Calvados
of France, cooking for the Royal Household of Saudi Arabia and
Prince Fahad
as well as being featured across television worldwide! Rick's work today continues to facilitate billionaire's homes in Maui. His work and gifts
to help the US Navy
were covered in Peter Knipp's New Asia Wine and Cuisine Magazine of Singapore as well as TAC's large-format Members Magazine.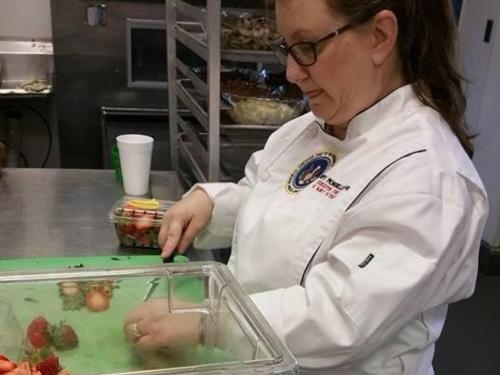 Executive Chef Stormy Mongiello has been cooking since she was the President of the Future Homemakers of America in High School. 20 years later she's on stage doing shows to one million attendees per day in San Francisco, the Arts-Beats-and Eats Fest of Detroit, the International Balloon Festival of Albuquerque, the New York State Fair, Makuhari Messe of Tokyo-Japan Show, the Taste of St. Louis, Foxwoods Casino, the Jacob K. Javits Center, and in Seoul doing the South Korea Hotel and Food EXPO. To name a few. Stormy is a disabled military veteran with an honorable discharge who served for six years.
Stormy has worked with the past five Presidents of the United States. She holds a PHR with a BS degree in business from WIU and is in her MBA program at WGU. Stormy is also an HR Director across six states, 400+ team-members being helped, and 200+ total properties in the Charlotte office.
See more here...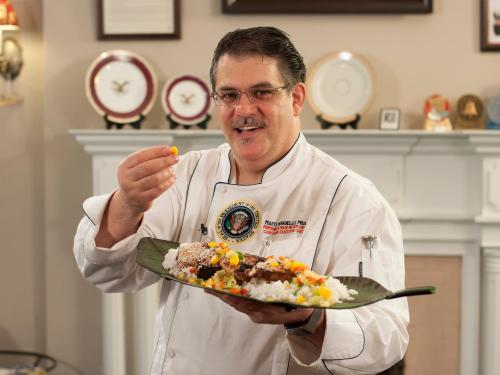 Marti Mongiello was a White House Chef and a General Manager of the Camp David Resort and Conference Center for several years. He was a member of the White House Military Office and has worked with the last five Presidents of the United States on many opportunities. Marti has personally taught and graduated just over 5,000 students at the International Academy of Household, Hotel, and Resort Management (IAHHRM). This has included a team for the Royal Family of the United Kingdom and many other top 2% family offices.
Marti retired from the US Military and holds a 30-retirement certificate as a disabled and injured veteran member of the VFW, WWP, DAV, AL, and IAVA. He was knighted in Belgium and wears the Iraq Medal, five Navy Achievement Medals, three Navy Commendation Medals, Expert Pistol Shot gold Medal, Rifleman Medal, and the Distinguished Service Medal from the State of New Jersey. Marti has lived on three continents as a healer, mediator, and expert contractor for trillions of dollars in negotiations and purchasing. Marti has managed large resorts to 1500 rooms, 6700 team members and dozens of direct reports.
General Manager and Chef de Cuisine Kim Hambright
Consulting and Visiting Sous Chef Alicia Guinyard
Chef Instructor and Executive Assistant Mindy Reynolds
VP of Maintenance, Jerry Goforth of HomeSpectors
Host and Colonial Actor Alexis Skidmore
Executive Chef and President Stormy Mongiello
Chairperson and former White House Chef Marti Mongiello
Managing Director Allan B. Miller
Traveling Chef to Estates Rick Scott - Chef for Life
Hall of Fame Members, Ad Hoc Chefs, and Innkeepers
Howard Liss, Entrepreneur of businesses
Sean Downey, Visiting Chef of international cookery
Kendra Hubbard, Host, Assistant Innkeeper and Chef